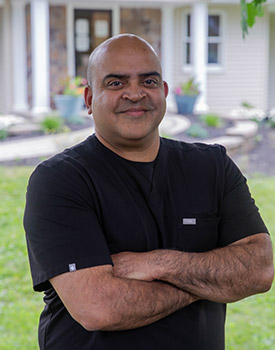 Read Transcript
I always wanted to be in healthcare. From a little kid, I remember always wanted to be in healthcare, to be some sort of doctor. And I did consider medical school, but I felt like dentistry would give me not just a career, but also a family path. I wouldn't be a nine-to-fiver kind. And so that way, I was able to have a family life also and not always be at a hospital, or doing rounds, or being in the office. So I'd like that part of it. And I like improving someone's health, so I think the two meshed well, for me. I guess the most rewarding is when someone completes this big treatment, that it may have taken us implants or something like that, it may have taken us a year or two. And just that moment when I hand them the mirror, that it's done, and the look on their face, it just my favorite moment. Because I stop and I just watch their face.
I definitely am helping with their health, as far as being able to eat and chew, but I'm also helping mentally, I feel. I feel it brings them more self-esteem to be able to greet someone and say hello to someone, that they're not uncomfortable with their smile, or they try to hide it. So I think that I feel like that's probably one of the biggest things that I enjoy most about it. And also, and many of those patients, there's a certain transformation that I get also, that after the coming to the office, they continue that, the way they hold themselves, the way they smile, the way they outwardly feel about themselves. It's really amazing to see that.
Dr. Vipul Patel (aka Vip) is a native of Jersey City, NJ and a graduate of St. Peter's Preparatory High School. He majored in biology as a student at SUNY Stony Brook. He then continued his dental education at New York University College of Dentistry, where he graduated in 1996. After dental school, Dr. Patel participated in a residency program at Long Island College Hospital in Brooklyn.
He opened his own practice in 1997 in Ridgewood, NJ. The following year, he became an associate dentist in Warwick, NY. He fell in love with the community and purchased the practice in 2001, and Warwick Valley Dental came to life.
To this day, Dr. Patel is a firm believer in the value of continuing education. It is something he emphasizes for his own professional development and for his team. To him, the excitement of learning is what separates youth from old age. As long as he is learning, he's not getting old!
Dr. Patel is an active member of multiple professional dental organizations:
The Academy of General Dentistry
The Ninth District Dental Society
The American Academy of Dental Sleep Medicine
The Dental Organization of Conscious Sedation
He also has attained fellowship status with the International Congress of Oral Implantologists and diplomate status with the American Board of Dental Sleep Medicine.
Dr. Patel and his wife, Lori, live in Oakland, NJ with their three children. Outside of the office, he enjoys cooking, reading, and watching sports.